Dart Impact Tester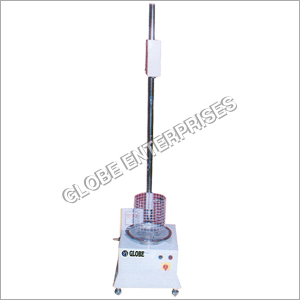 Dart Impact Tester
Price And Quantity
Product Specifications
Manual

Tested raw materials
Product Description
Dart Impact Tester
Impact resistance or impact failure load of plastic films is defined as the weight of a
hemispherical shaped dart, falling on the film held in a suitable clamp from a specified height, which causes failure of 50% of specimens tested.
The GLOBE Dart Impact Tester for plastic films consists of a vacuum clamp of specified shape and size on which the specimen can be supported at its periphery in a horizontal plane, a dart with incremental weights, a vacuum pump with electric motor to provide the vacuum needed for holding the test specimen, and a clamping ring for holding thicker films during the test.
The dart used for striking the film under test has a hemispherical head of 38.1 mm diameter made of fiber reinforced bakelite and an aluminium shaft with mild steel tip for suspending it from an electromagnet. A set of annular shaped stainless steel weights is provided for changing the total mass of the dart for giving different impact energies. A foam padding is placed inside the clamp to avoid damage to the dart head if it passes through the test specimen.
The electromagnet for holding and releasing the dart is fixed on a bracket vertically above the centre of the clamp. An arrangement for fixing the bracket at three different locations to give the desired dropping heights is also provided.
The equipment is built on a rigid steel frame and is finished in shore blue matalic painting and bright chrome plating to give it a corrosion resistant finish.
Technical Specifications

Inside diameter of clamp

127 mm

Diameter of dart head

38.1 mm

Dimensions of dart shaft

6.4 mm diameter x 115 mm long with 12.7 mm
long mild steel tip

Material of dard head

Fabric reinforced bakelite

Weight of dart with locking collar

50 g

Incremental weights

5 g - 5 of, 15 g - 24 of

Dropping heights

220 mm, 660 mm and 1524 mm


Related Standards



IS 2508 - 1984

Specifications for Low Density Polythelene Films

IS 10889 - 1984

Specification for High Density Polythylene Films

BS 2782 - 1970

Methods for Testing Plastics
M ethod 306 F: Impact Resistance of Flexible Films
by Falling Dart

Trade Information
Cash Advance (CA), Cash in Advance (CID), Cheque

100 Per Month