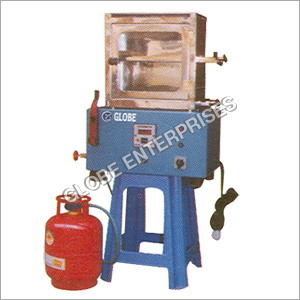 Industrial Flammability Tester
Product Code : IFT 15
Price And Quantity
Minimum Order Quantity

:

1
Unit of Measure

:

Unit/Units
Product Description
Flammability Tester
Resistance to propagation of flame of materials used in the interiors of motor vehicles is determined by finding the horizontal burning rate of a test specimen taken from the material under test after application of a standard flame at one end for a period of fifteen seconds. The test specimen is held horizontally in a U-shaped holder inside a combustion chamber and flame from a Bunsen burner applied at its end. The ratio of the burnt distance and time taken to bum through this distance gives a measure of the flammability.
The GLOBE Flammability Tester for automobile interior materials consists of a combustion chamber in which the test is conducted, a test specimen holder in which the test specimen is mounted during the test, a standard Bunsen burner to provide the flame, and a set of timers for timing the flame application time and flaming time.
The combustion chamber is made form 2 mm thick stainless steel sheet and has a glass / polycarbonate window for observing the test specimen during the test. It has a set of ten vent holes of 19 mm diameter on its bottom and a vent slot of 15 mm width on all the four sides at its top. It is also provided with a channel for sliding in the test specimen holder. The chamber is placed on four 10 mm high legs.
The test specimen holder is made from brass plate and is in two parts, the lower part having a slot for exposing the test specimen, and an upper plate with corresponding holes to press down the test specimen from top over the holding pins. An arrangement to string a heat resistant wire on the lower frame for providing support to the test specimen is also provided.
The test flame is obtained from a standard Bunsen burner fixed such that its tip is at a specified location below the test specimen. An arrangement to control the flow of gas to the burner to control the height of flame is also provided. A collection pan is provided below the test specimen holder to collect the products of combustion. The pan can be moved from outside of the combustion chamber. A thermometer is also provided to measure the temperature of the chamber.
A pre:set electronic timer automatically starts as soon as the test specimen is brought in position above the Bunsen burner and also cuts off the gas supply to the burner after a set period of time. Another timer which can be started and stopped manually records the time taken for the flame to move from the first reference point to the second reference point.
Technical Specifications
Dimensions of test chamber

385 x 204 x 360 mm

Dimensions of test specimen holder

100 x 360 x 10 mm

Opening of Bunsen burner

9.5 mm diameter

Flame application time

15 seconds

Flaming timer

0 - 999 x 1 second


Related Specifications



ISO 3795 - 1989 (E)

Road Vehicles and Tractor and Machinery for
Agriculture and Forestry - Determination of Burning
Behavior of interior Materials

JIS K 6400 - 1997

Test Methods for Flexible Polyurethane Foam

Contact Us
373/7, Mukund Nagar, Industrial Area, Ghaziabad, Uttar Pradesh, 201001, India
Phone :+918068214745