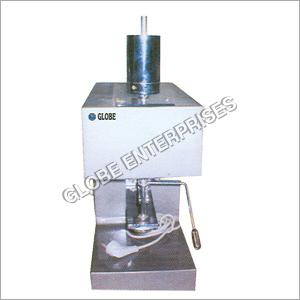 Rub Proofness Tester
Product Code : 14
Product Description
Rub Proofness Tester
The rub proofness tester is used for determination of fastness of colour of light leathers to wet and dry rubbing and for measuring the transfer of colour to the material with which it is rubbed. The test specimen is rubbed with a rotating circular felt pad pressing against it under a specified force, and the number of revolutions of the pad required to produce certain specified effects is determined.
This equipment can also be used for assessing the degree of damage to a material during mild wet abrasion imitating the scuffing action of a damp hose on footwear insole during wear. A rotating wet circular felt pad, covered with a worsted fabric under a specified contact force rubs against the test specimen. Overall damage to the test specimen is assessed by measuring its mass loss after a specified numbers of rubs.
The GLOBE Rub Proofness Tester is constructed on a rigid fabricated frame. Rubbing is carried out by rotating a felt pad against a test specimen placed on an anvil. The felt pad is held in a rotating holder with the help of three sharp needles and can be raised and lowered with the help of a lever to bring it in contact with the test specimen.
Motion to the felt pad is given by an AC synchronous motor and belt-pulley arrangement. The sleeve in which the rod carrying the rotating holder slides is mounted on two ball bearings to give it a long and trouble-free running life. Weights are provided to apply the specified forces on felt pads for both dry and wet rubbing.
The test specimens are normally kept on a flat platform under the rotating felt pad. However, for testing of finished products, provision has been made to replace the flat platform by a small circular anvil that can accommodate various finished products like shoulders of garments and shoes.
A four-digit electronic counter with re-set counts the number of abrading rubs of the felt pad. The counter operates only when the felt pad is lowered on to the test specimen.
The tester is finished in shore blue matalic painting and bright chromium or zinc plating to give it a corrosion resistant finish.
Technical Specifications
Rotating Speed

150 rpm

Load on felt pad

0.73 kg or 2.5 kg

Motor

AC synchronous motor - 20 kg cm

Counter

Four digit electronic counter


Related Standards



IS 6191 - 1971

Methods of Micro-Biological Colour Fastness and Microsocopical Tests
for Leather

LF 9: Determination of Fastness to Rubbing (Wet and Dry) of Light
Leathers

BS 3662 - 1962

Methods for the Determination of Colorfastness of Leathers

SLTC - SLF/5

Determination o Fastness to Rubbing (Wet and Dry) of Light Leathers

Satra PM 14

Resistance to Scuffing by Mild Circular Abrasion

Contact Us
373/7, Mukund Nagar, Industrial Area, Ghaziabad, Uttar Pradesh, 201001, India
Phone :+918068214745