Impact Absorption Tester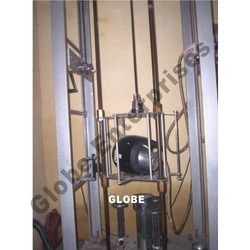 Impact Absorption Tester
Product Description
Holding years of experience and knowledge in this industry, our company has been able to mark its strong presence in the market as one of the excellent manufacturers, exporters & suppliers of Impact Absorption Tester. These testing equipments are highly demanded among our clients due to their easy usage, outstanding performance and accurate results during the testing. Suitable to measure the impact strength of the pipes and other components, Impact Absorption Tester is manufactured by us using tested quality raw materials.
Further details:
Impact absorption capacity of a helmet is determined by recording against time the negative acceleration imparted to a head-form over which the helmet is mounted, when dropped upon a fixed steel anvil in a guided free fall at a specified impact velocity.
The GLOBE Impact Absorption Tester for helmets consists of a rigid frame with a heavy base plate, a set of interchangeable steel anvils mounted on the base, a free fall guidance system with a dolly to keep the head-form with helmet on, an arrangement to drop the helmet from a known height on the anvil, a set of three accelerometers mounted in three mutually perpendicular directions which can be fitted inside a hollow metal head-form, and a data acquisition system with suitable software to provide the test report........conti..
Technical specification
| | |
| --- | --- |
| Dimensions of Main Frame | 900 mm x 600 mm x 4000 mm |
| Frequency | 50 Hz |
| Automation Grade | Semi-Automatic |
| Voltage | 220 V |
| Brand | Globe Enterprises |
| Material | SS |
| Sampling Frequency | 10 kHz |
| Flat Anvil | 130 mm +-3 mm (Diameter) |
| Dropping Height | Adjustable Between 1.5 & 3 m |